Standard gauge, 30 & 35-lb rail
Headquarters: Hattiesburg
Mill Location: Petal, MS (Forrest County)
Mill Capacity: 0,000 ft/day
Years of Operation: 1903-1907
Miles Operated: 4 miles
Locomotives Owned: 1
Equipment: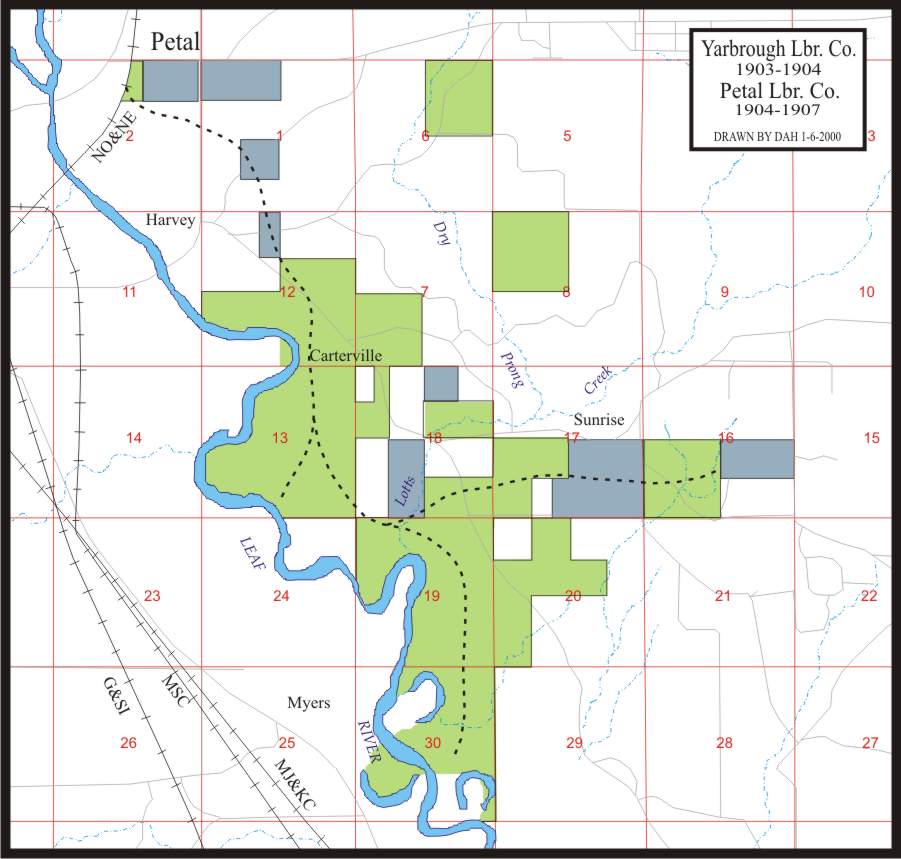 Click Map for Larger Version
History by Gil Hoffman:
The Yarbrough Lumber Company was incorporated at Yarbrough Switch, on the New Orleans & Northeastern Railroad, in Petal, Perry County, on May 29, 1903, by W. H. Seeger, T. D. Taylor, E. L. Sterling and C. O. Eure with authorized capital stock of $30,000. The original officers were: T. D. Taylor, president; E. L. Sterling, vice president, and H. H. Seeger, secretary.
On May 18, 1904, to satisfy a mortgage of $14,440 and other debts, the company sold its sawmill, logging railroad and equipment to the Louis Werner Saw Mill Company, of St. Louis, Missouri. The Louis Werner Company operated the mill under the name Petal Lumber Company until about August 1907. On January 8, 1909, the logging railroad and rights-of-way were sold to the McInnis Lumber Company, whose mill bordered the Werner mill on the south.
After selling out to Louis Werner, in the latter part of 1905, Taylor and Seeger established a new mill on the New Orleans Great Northern at Oakvale, in Lawrence County.
For a detailed history of this operation see: Steam Whistles in the Piney Woods Volume 2, by Gilbert H. Hoffman
ROSTER by Gil Hoffman:
Road No.

Type

Builder

C.N.

Date

Cyls.

Dri. Dia.

Engine

Wt.

Previous Ownership

Disposition

?

17-2 Heisler

Stearns

10x10

30

34000

Louis Werner Saw Mill Co. #1, Griffin, AR

(Griffin, Lisbon & Marysville R.R.)

Yarbrough Lumber Co., on 5/9/1903. Cost $2,000.

Louis Werner Saw Mill Co. (Petal Lumber Co.), on 5/18/1904.