Standard gauge, 30 & 35-lb rail
Headquarters: Hattiesburg
Mill Location: Maxie, MS (Forrest County)
Mill Capacity: 25,000 ft/day
Years of Operation: 1917-1922
Miles Operated: 2
Locomotives Owned: 1
Equipment: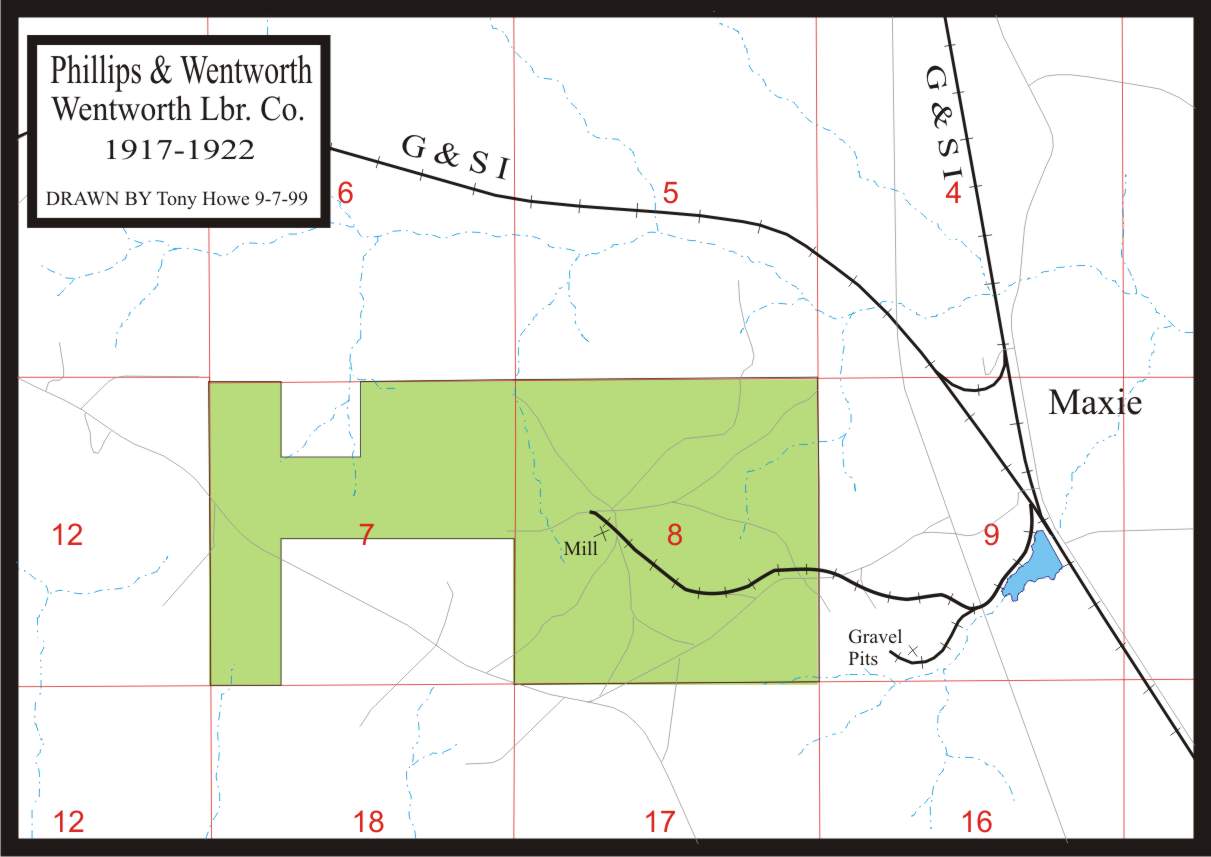 Click Map for Larger Version
History by Gil Hoffman:
In December 1915, Rupert D. Wentworth and Charles W. Phillips, both of Hattiesburg, formed the partnership of Phillips & Wentworth and bought 1,160 acres of timber and two small sawmills about three miles southwest of Richburg, in Lamar County. The property was purchased from the Citizens Bank of Hattiesburg for $11,000, the timber having been part of the holdings of the bankrupt A. G. Little Lumber Company. These mills were logged by oxen. Wentworth had been and buyer for several years with various wholesale lumber firms and Phillips had been office manager for the McLeod Lumber Company. The mill at Richburg lasted until about May 1917.
On September 10, 1917, Phillips & Wentworth bought 1,000 acres of yellow pine timber from the heirs of Alex McPherson, lying from one to two miles west of Maxie, Forrest County. A circular sawmill of 25,000 feet daily cutting capacity was built in this timber and was placed in operation in October 1917. The mill was connected with the Gulf & Ship Island, about two miles distant, by a standard gauge railroad, built about January 1918. The railroad apparently was only used to transport finished lumber to the G&SI. Logging was done by teams.
On December 16, 1918, Phillips sold his half interest in the business to Wentworth, who continued to operate the mill. The Wentworth Lumber Company, which succeeded Phillips & Wentworth, was incorporated at Maxie, Forrest County, on March 4, 1919, by R. D. Wentworth and R. N. Steadman with authorized capital stock of $50,000. On February 8, 1919, five days after the articles of incorporation were filed, Wentworth sold a three quarters interest in the assets of Phillips & Wentworth to R. N. Steadman, G. M. McWilliams and John A. McLeod. These three men in return assumed three quarters of the debts of the old partnership. Although McWilliams and McLeod were not listed as stockholders, this transaction was all part of the formation of the Wentworth Lumber Company. In 1922 the mill closed.
For a detailed history of this operation see: Steam Whistles in the Piney Woods Volume 2, by Gilbert H. Hoffman
ROSTER by Gil Hoffman:
Road No.

Type

Builder

C.N.

Date

Cyls.

Dri. Dia.

Engine

Wt.

Previous Ownership

Disposition

7

23-2

Shay

Lima

882

3/1904

3-9x8

26

46000

Poplarville Lumber Co. #7, Poplarville, MS

Poplarville Saw Mill Co. #7, Poplarville, MS,

on 7/16/1910.

Phillips & Wentworth #7, in 1918.

Wentworth Lumber Co. #7, on 3/4/1919.

Love Lumber Co. #7, Poplarville, MS,

on 9/1/1922.

Poplarville Lumber Co. #7, Poplarville, MS, in 12/1924.

Scrapped ca. 6/1926