Standard gauge, -lb rail
Headquarters: Moss Point, MS
Mill Location: Richton, MS (Perry County)
Mill Capacity: 75,000 ft/day
Years of Operation: 1903-1924
Miles Operated: 20 miles in 1924
Locomotives Owned:
Equipment: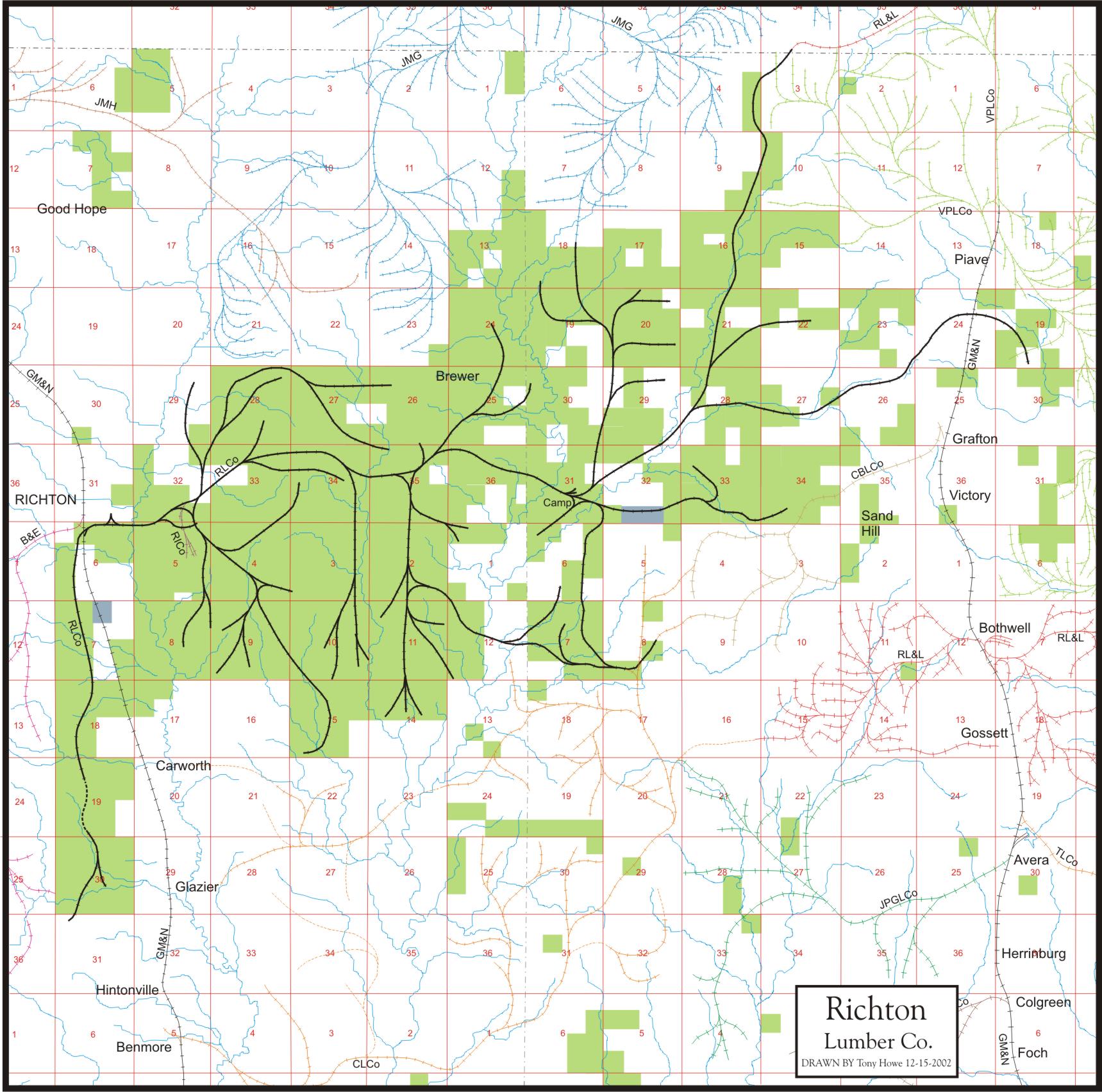 Click Map for Larger Version
History by Gil Hoffman:
The Richton Lumber Company was originally a partnership composed of P. M. Anderson, J. W. Griffin and H. C. Herring. In June and July of 1903, the company began buying land and timber in the vicinity of Richton, Perry County. On March 16, 1904, the company was incorporated at Moss Point, Jackson County, by the men composing the partnership with authorized capital stock of $50,000. In May 1904, the partners completed and put into operation at Richton a sawmill with cutting capacity of 30,000 feet daily. That same month (May 28, 1904) the partnership and the Moss Point Lumber Company, of Moss Point, MS (owned by Griffin and Herring), sold the corporation the sawmill at Richton and timber land in Perry, Jones and Greene counties for $20,000. Officers of the new company were P. M. Anderson, president and secretary, and G. J. Anderson, Sr., vice president and treasurer. In 1907 a logging railroad was finally constructed to log the mill.
On November 19, 1908, to obtain funds to meet its indebtedness, the company borrowed $75,000 from the Rittenhouse-Embree Company, of Chicago, Illinois. As part of this deal, the Rittenhouse-Embree Company obtained an option on 55 percent of the capital stock in the Richton Lumber Company, which it exercised by early 1909. The Richton Lumber Company was then reorganized with new officers, as follows: J. W. Embree, president; Peter M. Anderson (a member of the old company), vice president; C. A. Flanagan, secretary, and Homer W. Chandler, treasurer. At the time of acquisition, the Richton mill had a cutting capacity of about 50,000 feet per day. The Rittenhouse-Embree Company was also the majority stockholder in the Arkansas Lumber Company at Warren, Arkansas. On January 18, 1913, by charter amendment, the domicile was changed to Richton.
In November 1924 the entire plant was offered for sale. At that time the company was operating a 75,000 feet daily capacity circular mill. Other facilities included a two-room brick dry kiln, four machine planing mill and machine shop. On December 15, 1924 the cutover lands and town lots in Richton were sold to the Southern Salvage Company, of Delaware.