Standard gauge, 56-lb rail
Headquarters:
Mill Location: Bond, MS (Stone County, was part of Harrison County)
Mill Capacity: 60,000 ft/day
Years of Operation: 1899-1910
Miles Operated: 12 miles in 1910
Locomotives Owned: 4?
Also see: Bond Lumber Co.
Equipment:
4 locomotives, 63 cars, 1 American log loader in 1910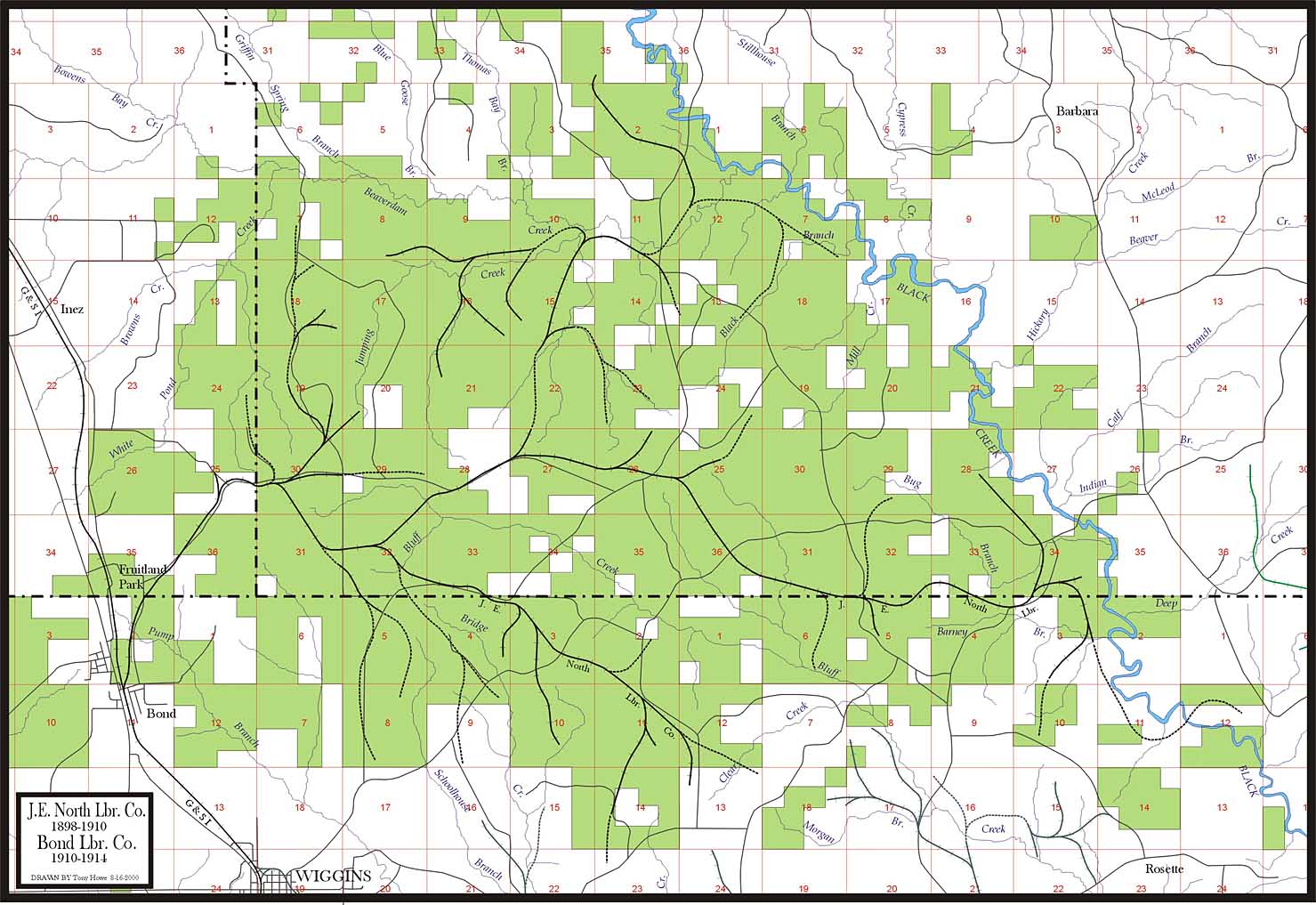 Click Map for Larger Version
History by Gil Hoffman:
The J. E. North Lumber Company was incorporated at Bond, Harrison County, on March 9, 1899, by J. E. North, Richard Fahey and S. D. Thayer with authorized capital stock of $25,000 with option to increase the stock to $50,000. By September 1900, the company had in operation a 60,000 foot capacity longleaf yellow pine mill, on the Gulf & Ship Island Railroad, at Bond. This mill cut mostly for export. In 1900 the officers were J. E. North, president; R. Fahey, vice president, and S. D. Thayer, secretary and treasurer as well as general manager. A new double bandmill was placed in operation in the fall of 1903. At that time six miles of logging railroad were in operation.
During the financial panic of 1907 the company went into receivership. The co-receivers appointed were the Hibernia Bank & Trust Company, of New Orleans, and J. R. Pratt, of Gulfport. On June 27, 1910, the plant and other property were sold at the Gulfport Courthouse to the newly-formed Bond Lumber Company.
ROSTER by Gil Hoffman :

50? No data

Purchased secondhand in 11-1899. Named "S. D. Thayer."

60? 0-6-0 18x22

Purchased from Hicks Locomotive & Car Works, Chicago, IL in 1904.

70 2-6-0 Hinkley 1317 2-1879 57 18x24 90600

Purchased from Terre Haute & Indianapolis "A" in 4-1904.

Built as Terre Haute & Indianapolis #10, renumb. "A" in 12-1903.

Note: the company owned at least one additional locomotive by 1910.