Standard gauge, -lb rail
Headquarters:
Mill Location: Grafton, MS (Greene County)
Mill Capacity: 0,000 ft/day
Years of Operation: 1918-1921
Miles Operated:
Locomotives Owned: 1
Equipment: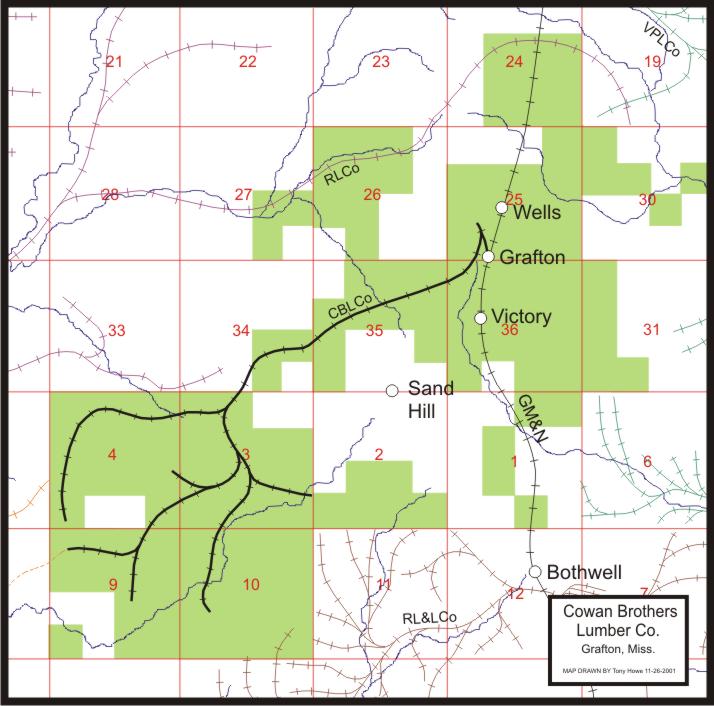 Click Map for Larger Version
History by Gil Hoffman:
On February 18, 1918, J. W. McWilliams, of the J. W. McWilliams Lumber Company, with a wholesale lumber office in Mobile, Alabama, and Z. W. Wells, of Poplarville, Mississippi, purchased a block of the Blodgett timber near Grafton, Greene County, for $280,000, and formed a partnership to engage in the sawmill business. Later that year Frederick S. Pearson was taken into the business as a partner. The partners then bought the mill of P. M. Ikeler, at Moselle, Jones County, and moved it to Grafton on the Gulf Mobile & Northern Blodgett Branch, about 20 miles north of McLain. This mill began cutting in November 1918. Grafton was the railroad name, but Walley was the name of the community. On January 7, 1920, Wells sold his interest in the mill to McWilliams for $34,275.94.
In December 1921, the sawmill, timber and logging railroad at Grafton were sold to L. A. Cowan & Sons, of Mobile, Alabama, and operated by the sons of L. A. Cowan as the Cowan Brothers Lumber Company.
ROSTER by Gil Hoffman:
Road No.

Type

Builder

C.N.

Date

Cyls.

Dri. Dia.

Engine

Wt.

Previous Ownership

Disposition

2

42-2

Shay

Lima

3122

10/1920

3-10x12

29½

84000

New for McWilliams & Pearson.

Cowan Brothers Lumber Co. #2, Grafton, MS,

on 12/15/1921.

Coxheath Lumber Co. #4, Coxheath, AL, in 6/1925.