Standard gauge, -lb rail
Headquarters: Leaf, MS
Mill Location: Avent (Benjoe), MS (Greene County)
Mill Capacity: 25,000 ft/day
Years of Operation: 1924-1929
Miles Operated:
Locomotives Owned: 2
Equipment: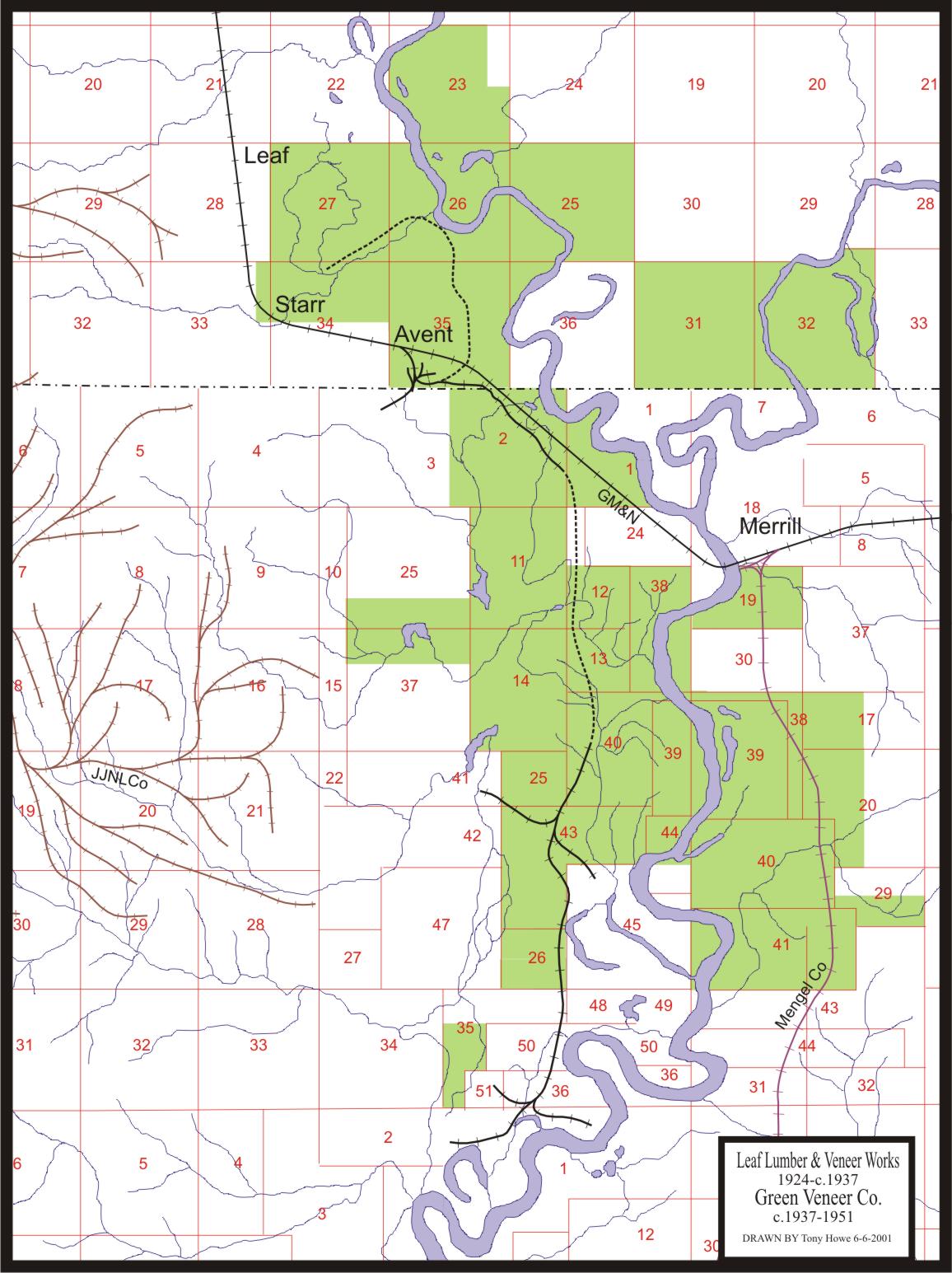 Click Map for Larger Version
History by Gil Hoffman:
The Leaf Lumber & Veneer Works was incorporated at Leaf, Greene County on April 14, 1924, by B. E. Green, of McLain; J. C. Daughdrill, of Leaf, and H. M. Hempstead, of Mobile, AL, with authorized capital stock of $100,000. In early 1924 the company purchased the plant of the Overstreet Veneer Company, at Beaumont, Perry County, and moved it to Avent, adding a bandsaw, edger and trimmer. The Avent mill, with a cutting capacity of 25,000 feet per day, cut hardwood and cypress.
In April 1929 the company bought the plant and timber holdings of the Southern Saw Mill Company, at Greenville, Florida, and moved its operations from Avent, MS, to Greenville, FL, with operations commencing there in July 1929.
ROSTER by Gil Hoffman:
Road No.

Type

Builder

C.N.

Date

Cyls.

Dri. Dia.

Engine

Wt.

Previous Ownership

Disposition

?

40-2

Heisler

Heisler

1404

11/1919

14x12

36

80000

L. A. Cowan Lumber Co. #2, Reba, MS

Leaf Lumber & Veneer Works, on ?

Birmingham Rail & Locomotive Co. #1826

Sherwood-Templeton Coal Co., Lotta, IN,

on 10/11/1935.

?

36-2

Heisler

Heisler

1236

1911

14x12

36

72000

F. B. Merrill Co. #1, Merrill, MS

Cowan Brothers Lumber Co. #4, Grafton, MS

Southern Iron & Equipment Co. #2088

Leaf Lumber & Veneer Works, on ?

Leakesville Veneer & Lumber Co., Leakesville, MS, ca. 1929.