Standard gauge, 40-lb rail
Headquarters:
Mill Location: Perkinston, MS (Stone County, was Harrison Co. at the time)
Mill Capacity: 50,000 ft/day in 1910
Years of Operation: 1907-1913
Miles Operated: 6 miles in 1910
Locomotives Owned: 2
Also see: Farnsworth Lumber Co.
Equipment:
1 locomotive 8 cars in 1910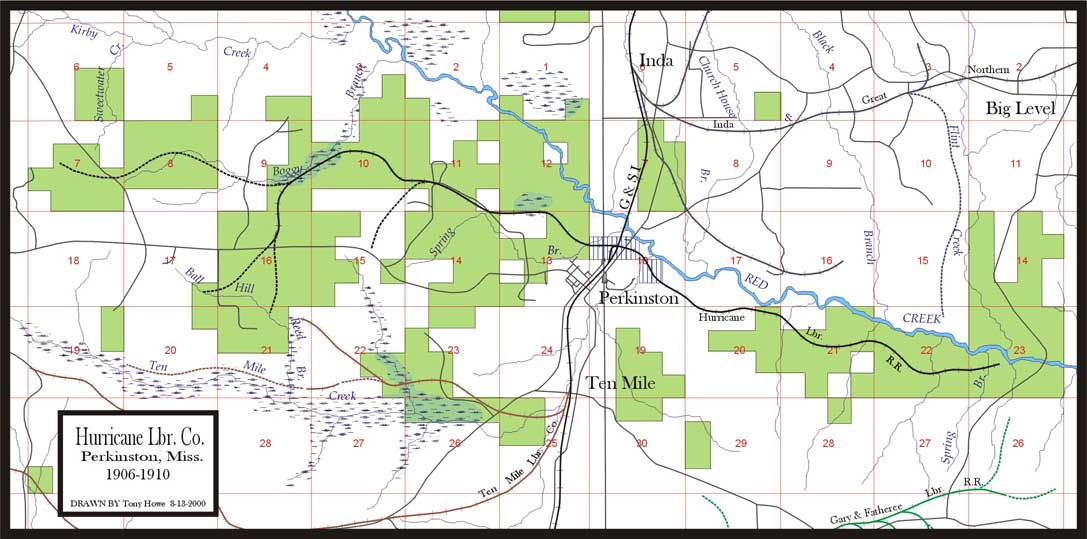 Click Map for Larger Version
History by Gil Hoffman:
The Hurricane Lumber Company was organized in February 1907 by W. W. Farnsworth of Scranton, Miss. (of the Farnsworth Lumber Company) to cut pine timber around Perkinston downed in the hurricane of September 27, 1906, from which the company took its name. This timber was purchased on February 26, 1907 from the Inda Pine Company, of Inda, Harrison County, and was estimated to contain 3,070,000 feet. The price was $3.50 per thousand feet. It was located three to four miles east of Perkinston, just south of Red Creek. A sawmill with a cutting capacity of 50,000 feet per day was built at Perkinston. In 1910, the mill was leased to J. F. Wilder, of Hattiesburg.
The J. F. Wilder Lumber Company was incorporated at Perkinston, Harrison County, on September 13, 1910, by J. R. Pratt, of Gulfport; R. T. Kirkwood, of Epps; L. A. Wilder, of Epps, and C. H. Hill, of Epps, with authorized capital stock of $10,000.
The sawmill cut out in May 1913, but the planing mill remained open until the latter part of July 1913, dressing stock on hand, and then closed.
ROSTER by Gil Hoffman:

? 2-6-0 Baldwin 36 11x16 40000

Purchased from Gary-Fatheree Lumber Co., McHenry, MS, in 1907.

Leased to J. F. Wilder Lumber Co., in 1910.

For sale 7-1913.

99 2-6-0 Brooks 50 16x24 72000

Transferred (tentative) from J. F. Wilder #99, Epps, MS, in 1910.

Sold (tentative) to Hinton Brothers Lumber Co. #99, Lumberton, MS; to Edward Hines Yellow Pine Co. #99, Lumberton, MS, on 11-6-1917; to Southern Iron & Equipment Co. #1321, Atlanta, GA; to Calcasieu Saw Mill Co., Lake Charles, LA, on 3-24-1919.