Standard gauge, -lb rail
Headquarters: Hattiesburg, MS
Mill Location: Millview, MS (Stone County, was Harrison County then)
Mill Capacity: 75,000 ft/day
Years of Operation: 1905-1910
Miles Operated: 7 miles in 1906
Locomotives Owned: 2
Also see: Latimer-Joyce Lumber Co.
Equipment: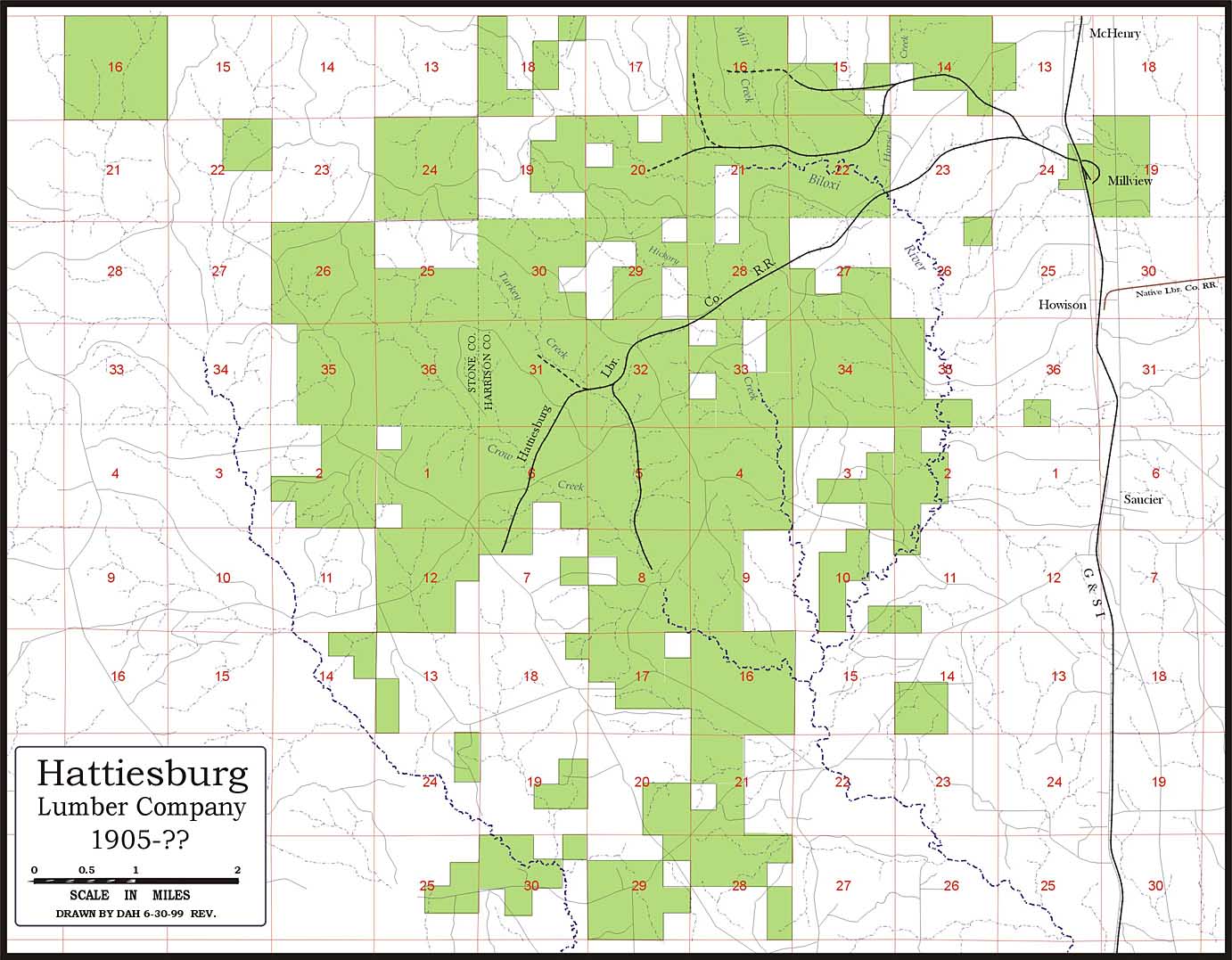 Click Map for Larger Version
History by Gil Hoffman:
The Hattiesburg Lumber Company was incorporated at Millview, Harrison County, on April 19, 1905 by R. W. Huie, C. E. Neeley, C. A. Bowman, George B. Young and Frank McClure with authorized capital stock of $100,000. The officers were R. W. Huie, president, later succeeded by W. W. Brown, of Camden, AR; C. E. Neeley and C. A. Bowman, vice presidents; George B. Young, secretary, and Frank McClure, treasurer. On May 4, 1905 the company purchased the sawmill and timber holdings of the Latimer-Joyce Lumber Company, at Millview, 22 miles north of Gulfport on the Gulf & Ship Island Railroad. A planing mill in Hattiesburg was also part of the purchase. Frank McClure was in charge of the Hattiesburg planing mill and J. T. Holloway was in charge of the Millview sawmill.
The sawmill contained a Prescott rig and feed and had a cutting capacity of 75,000 feet daily. This was a longleaf yellow pine operation with the product chiefly sold for export and car material. About 20 percent was sent to the planing mill in Hattiesburg to be worked into finishing stuff.