57" gauge, 30 and 35-lb rail
Headquarters:
Mill Location: Perry, MS (Stone County, was part of Harrison Co.)
Mill Capacity: 35,000 ft/day
Years of Operation: 1899-1906
Miles Operated: 3 miles in 1900
Locomotives Owned: 1?
Equipment:
4 log cars in 1900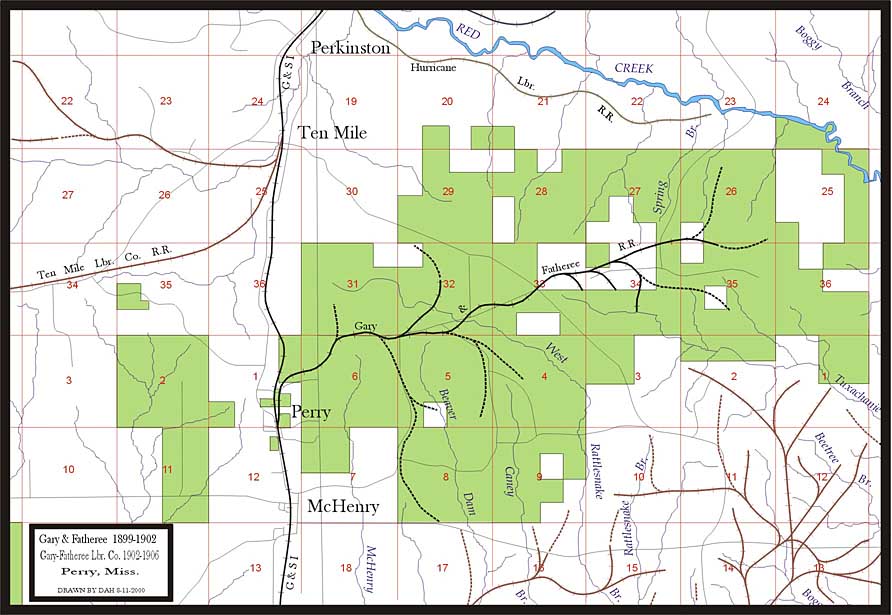 Click Map for Larger Version
History by Gil Hoffman and Tony Howe:
Gary & Fatheree was a co-partnership initially composed of S. O. Gary and H. N. Fatheree. In April 1899, they began buying timber in the vicinity of McHenry, Harrison County. By 1900 they were operating a sawmill three miles southeast of Perkinston. On October 23, 1900, the partners bought the sawmill of the Midway Lumber Company, known as the Jordan Mill, located in the village of Bullis (later renamed Perry).
The former mill of the Midway Lumber Company at Perry, on the Gulf & Ship Island Railroad about one mile north of McHenry, was operated by John H. Gary and F. W. Fatheree, as part of the partnership of Gary & Fatheree. This mill had a cutting capacity of 35,000 feet per day and sawed longleaf yellow pine lumber and export and bridge timbers. Construction of a logging railroad in connection with the Perry mill was begun in September 1900.
The Gary-Fatheree Lumber Company was incorporated at McHenry, Harrison County, on December 21, 1900, by John H. Gary, S. O. Gary, F. W. Fatheree and H. N. Fatheree with a paid in capital stock of $50,000. John H. Gary was president and F. W. Fatheree, secretary and general manager. On February 7, 1901, the property of S. O. Gary and H. N. Fatheree, consisting of timber land and the mills at Perry and near Perkinston, was purchased by the Gary-Fatheree Lumber Company for $30,000.
A planing mill was added to the Perry mill in the summer of 1901 and an electric light plant, in the fall of that year. Gary and Fatheree were also involved in the Gulf Coast Lumber Co. at Lyman.
The Gary-Fatheree mill at Perry burned on November 17, 1906 and was not rebuilt. The railroad equipment was reportedly sold to the Hurricane Lbr. Co. at Perkinston.
ROSTER by Gil Hoffman:

? 2-6-0 Baldwin 36 11x16 40000

Purchased from Smith & Kilby Co., Anniston, AL (dealer), on 10-2-1900. Cost $2,055.

Sold

to Hurricane Lumber Co., Perkinston, MS, in 1907.