Standard gauge, -lb rail
Headquarters: Pascagoula, MS
Mill Location: Pascagoula, MS ( Jackson County)
Mill Capacity: 55,000 ft/day in 1910
Years of Operation (RR): 1899-1910
Miles Operated:
Locomotives Owned: 3
Equipment: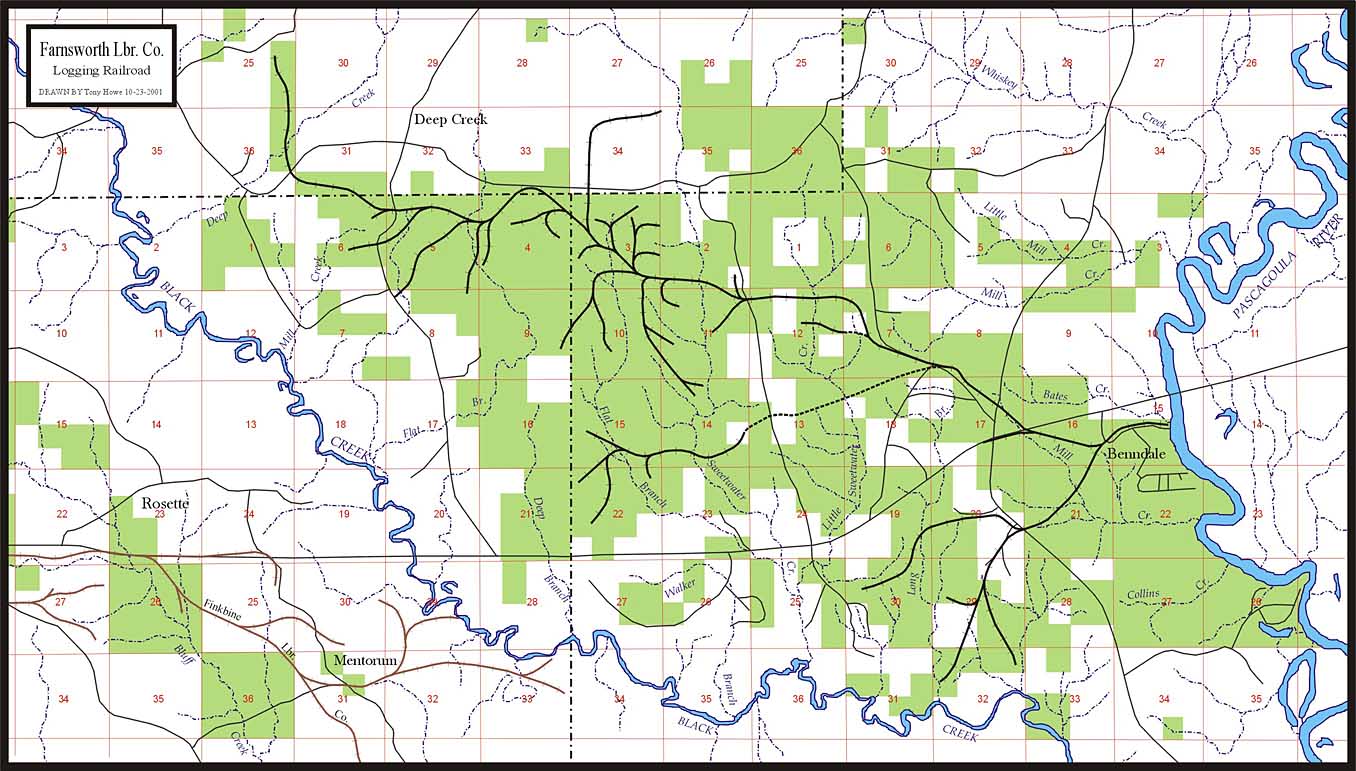 Click Map for Larger Version
History by Tony Howe:
Prior to this time, Farnsworth had done nothing to log the tracts that were acquired near Perkinston. After the hurricane, he moved quickly to build a mill on the north side of Perkinston, on the Gulf and Ship Island Railroad. Perhaps with a sense of humor, W.W. Farnsworth incorporated the Hurricane Lumber Company to operate this mill. He also incorporated the Calamity Land Company to acquire and sell land. A 2-6-0 locomotive, and probably several log cars and a quantity of rail, was purchased from the nearby Gary & Fatheree Lbr. Co. at Perry, whose mill had just burned and decided to get out of the sawmill business. A railroad was laid in early 1907 southeastward out of Perkinston into the company's timber along the south side of Red Creek.
The railroad at Benndale probably operated until 1909 or 1910, when the mill at Pascagoula shut down. In fact, the mill was forced to shut down several days as early as Feb. 1909 due to a scarcity of logs.[xxxv] In March of 1910, J.T. Rigsby was transferred to Perkinston, to become manager of that mill.[xxxvi] The mill possibly operated as late as 1911.[xxxvii] In late November 1911, the sawmill was leased to Paul Smith and T.F. Johnson for one year. The mill was restarted by December 1, but it is not known how long the mill actually operated.[xxxviii] In May of 1913, the machinery of the mill was sold to the American Supply Co., of Mobile, Alabama. On January 4, 1914, the abandoned sawmill building burned to the ground.[xxxix]
So what happened to the Farnsworths? Robert Farnsworth stayed in Pascagoula, where he served on the city council and school board, and later was a road commissioner of beat 3. He also operated a coal dock near the site of the old sawmill, where coal was transferred from railroad hoppers to small boats for use as fuel. He finally passed away on Dec. 14, 1915.[xl] W.W. Farnsworth continued to operate the Hurricane Lbr. Co. at Perkinston until 1910, when he leased the operation to J.F. Wilder. He then moved to Denver, Colorado, and then to Toledo, Ohio, Chicago, Illinois, and finally to Coalingo, California, where he entered the oil business. He died in California on May 7, 1928.[xli] H.C. Herring went on to own several more sawmills in Mississippi, including the Moss Point Lbr. Co., and the Richton Lbr. Co. He also organized the Bank of Moss Point in 1906, and when that bank became the Pascagoula National Bank in 1907, he became its first president, until he retired in 1926. He passed away October 13, 1927.[xlii]
ROSTER by Gil Hoffman:

? 0-4-4F Rhode Island 2955 9-1893 44 14x18 60000

Purchased from Fitz-Hugh & Co., Chicago, IL

Built as Lake Street Elevated #12 "David W.," Chicago, IL (a 13&21x18 compound), retired in 1896; to Fitz-Hugh & Co., in 1899. Converted to 14x18 simple cylinders.

Sold to Birmingham Rail & Locomotive Co. #1001, Birmingham, AL; to McLean Lumber Co., Chattanooga, TN, on 6-12-13.

? 6-wheel 80000

Purchased from F. M. Hicks Company, Chicago, Ill. (dealer), in 8-1902.

? 0-4-2TB Baldwin 7358 6-1884 35 11x16 34000

Purchased secondhand. On hand by 3-1905.

Built as Wheeling & Elm Grove #3, Wheeling, WV (dummy type).

Sold

to Twin Tree Lumber Co., Maplesville, AL.