Standard gauge, -lb rail
Headquarters: Mobile, AL
Mill Location: Grafton, MS (Greene County)
Mill Capacity: 0,000 ft/day
Years of Operation: 1921-1925
Miles Operated: miles
Locomotives Owned: 2
Equipment: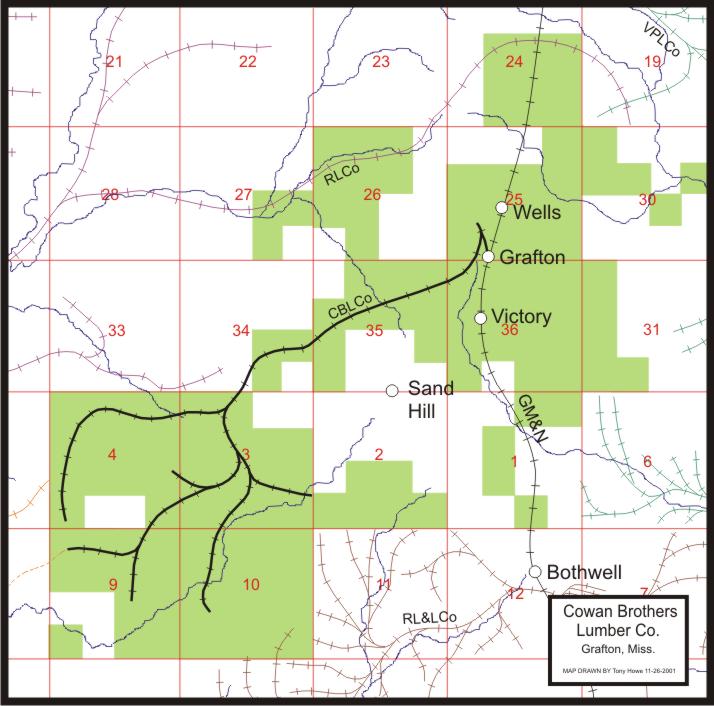 Click Map for Larger Version
History by Gil Hoffman:
On December 15, 1921, L. A. Cowan & Sons, of Mobile, AL, bought the sawmill, timber and logging railroad of John W. McWilliams and Zed W. Wells at Grafton, Greene County, on the Gulf, Mobile & Northern Blodgett branch. On October 25, 1922, timber for the mill was purchased from John W. Blodgett, of Grand Rapids, MI, for $460,000, taking over contracts Blodgett had with McWilliams and Wells dated February 18, 1918, and July 1, 1919. The McWilliams and Wells mill was operated under the name Cowan Brothers Lumber Company by C. H. and T. S. Cowan, sons of L. A. Cowan. C. H. Cowan was general manager.
The mill cut out in 1925.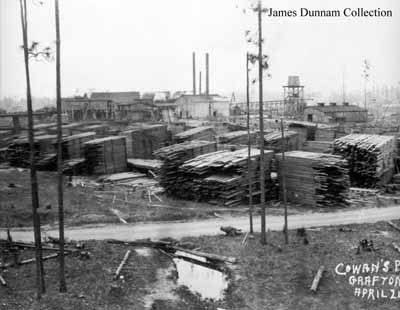 Cowan Brothers Lumber Co. mill at Grafton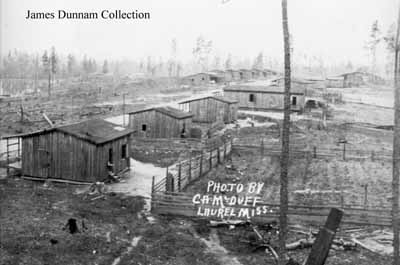 Mill quarters in the town of Grafton
ROSTER by Gil Hoffman:
Road No.

Type

Builder

C.N.

Date

Cyls.

Dri. Dia.

Engine

Wt.

Previous Ownership

Disposition

2

42-2

Shay

Lima

3122

10/1920

3-10x12

29½

84000

McWilliams & Pearson #2, Grafton, MS

Cowan Brothers Lumber Co. #2,

on 12/15/1921.

Coxheath Lumber Co. #4, Coxheath, AL, in 6/1925.

4

36-2

Heisler

Heisler

1236

1911

14x12

36

72000

F. B. Merrill Co. #1, Merrill, MS

Cowan Brothers Lumber Co. #4, on ?

Southern Iron & Equipment Co. #2088

Leaf Lumber & Veneer Works, Avent, MS

Leakesville Veneer & Lumber Co., Leakesville, MS